Paul Crabb, Prometheus Artistic Director and Conductor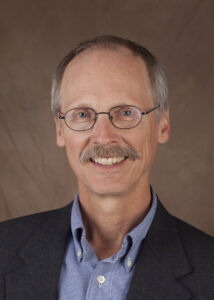 R. Paul Crabb, is the founding Artistic Director and conductor of Prometheus. As Director of Choral Activities and Graduate Choral Studies at the University of Missouri, his choirs have been invited to perform at state, regional, and national conventions. International conducting and lecturing has taken him to Japan, Taiwan, China, Brazil, Poland, Russia, Sweden, Estonia, and throughout Western and Central Europe. He was the first American to serve as a Visiting Professor at the Liszt Academy of Music in Budapest, Hungary, and at the University of Vienna's Universität für Musik und Darstellende Kunst choral department. His frequent invitations overseas have led to multiple performances for his choral ensembles and graduate students. In December of 2017 Crabb organized a series of seminars and performances in Italy for graduate conducting students. In addition to being an active performer, MU recognized Crabb for their top teaching award — selected from over 2000 faculty across the campus — in 2012.
---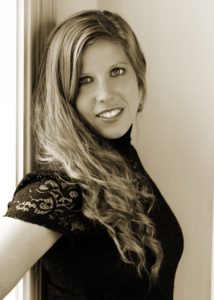 Emily Edgington Andrews, Prometheus Assistant Conductor
Long an advocate for quality musical arts in the community, Emily Edgington Andrews is extremely active in Columbia, working with children and adults at every level of their musical development. Emily is the Artistic Director and a Conductor for Choral Arts Alliance of Missouri, an organization that offers exceptional choral experiences accessible to everyone from youth to adults. She serves as the Assistant Conductor for the professional chamber vocal ensemble, Prometheus: An American Vocal Consort. Emily is an Instructor of Music at at Columbia College, and serves as conductor at the historic Sacred Heart Catholic Church in Columbia, MO. Emily is a Ph.D. candidate in music education at the University of Missouri. 
She regularly serves as a guest clinician and adjudicator, and is an active member of the American Choral Directors Association and the National Association for Music Education.
---
SINGERS
---
Christina Adams, Mezzo-Soprano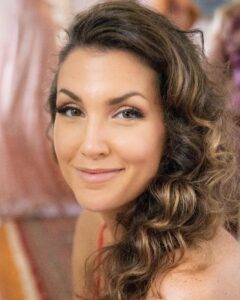 Mezzo-Soprano Christina G. Adams has enjoyed a mix of opera, choral music, pop, jazz, and musical theater in her performance career. In 2021, she joined the ensemble at Lyric Opera of Chicago, where she has had the privilege of working with conductors Enrique Mazzola, Eun Sun Kim, and Andrew Davis, and director Sir David McVicar. That same year, she joined Columbia's own award-winning Vox Nova vocal chamber ensemble. Just days before Covid-19 restrictions hit the US, Adams performed in the finals of the prestigious Luminarts Cultural Foundation Fellowship competition. After shifting to accommodate pandemic upheaval, she was featured as a soloist on Cedar Rapids Opera's film, Songs of Isolation and Connection. In 2019 she was a member of Sarasota Opera's Apprentice Artists and is the recipient of an Encouragement Award from the Metropolitan Opera National Council Auditions. Adams holds a Master of Music in Vocal Performance from University of Colorado-Boulder and dual Bachelor's degrees from University of Missouri in Music and English.
Brandon Browning, Baritone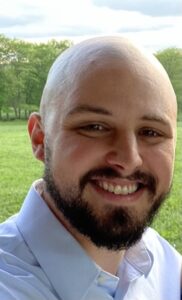 Brandon Browning, baritone, is a soloist, choral singer, and educator of music. He recently made a decision to go back to school and is currently completing a Master's Program in Couples and Family Therapy at Kansas State University. He still enjoys teaching voice lessons while he is furthering his studies. In his previous education, he completed degrees in Vocal Music Education and Vocal Performance from the University of Missouri-Columbia.
Brandon is ecstatic to be rejoining Prometheus for his 9th tour with the group! He performed his 6th and last season with the Grammy® Award-winning Kansas City Chorale and as a section leader with the St. Paul's Episcopal Church Adult Choir back in 2021 before stepping back from performing to pursue his current academic studies. His most recent solo performance was as the bass soloist for Handel's Messiah performed by Mizzou's Choral Union. Other solo appearances include the Brahms Requiem with the Kansas City Chorale, as well as the Faure Requiem with the St. Paul's Adult Choir.
Joshua Chism, Tenor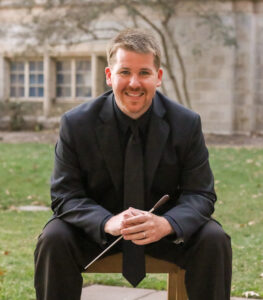 Joshua Chism, a Southwest Missouri native, holds a BME and a BM–Composition degree from Missouri State University (2010), an MM in Choral Conducting from the University of Missouri–Columbia (2019), and a PhD in Music Education with an emphasis in Conducting and Choral Pedagogy from the University of Oklahoma (2022). He is currently an Assistant Professor of Music at Whitworth University in Spokane, Washington where he serves as the Associate Director of Choral Activities and Director of Music Education. Joshua has a wide range of professional experiences: teaching in the K–12 and higher education settings, composing, performing, conducting, and researching. His philosophy of music education hinges on the centrality of a quality and equitable music making process. His research has recently been presented at the NAfME Music Research and Teacher Education Conference, the Symposium on Research in Choral Singing, the Graduate Music Society Conference, and the Society for Music Teacher Education Conference. Joshua is also an avid church musician serving in numerous capacities in houses of worship. Visit his website at www.joshuachism.com for more information.
Katie Crawford, Mezzo-Soprano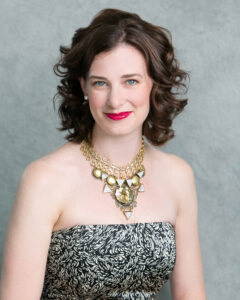 Katie Crawford, mezzo-soprano, holds a Master of Music degree in Vocal Performance from the Conservatory of Music and Dance at the University of Missouri – Kansas City and a Bachelor of Music degree in Vocal Performance from St. Olaf College. She sings with the Missouri Choral Artists and the Grammy® Award–winning Kansas City Chorale. As a dedicated church musician, she is a regular cantor and soloist for weddings, funerals, and other sacred services. Learn more at www.KatherineCrawford.com.

Frank Fleschner, Tenor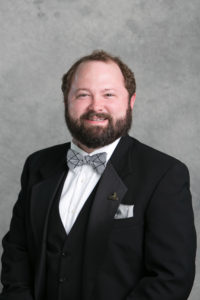 Tenor Frank Fleschner is an accomplished choral musician having just finished his seventeenth season with the Grammy Award-winning Kansas City Chorale.  His tenure with the Chorale has afforded him the opportunity to work closely with and debut works by several prominent composers such as Mark Hayes, René Clausen, and Eric Whitacre. As a soloist, Frank has appeared in Handel's Messiah, Bach's Johannes-Passion (Evangelist), Mendelssohn's Elijah and is the featured tenor soloist on the Kansas City Chorale's Grammy Award-winning recording of Rachmaninoff's All-Night Vigil.  Frank graduated from Truman State University and currently resides in Kansas City with his wife, Lindsey, and sings at Asbury United Methodist Church in Prairie Village, KS.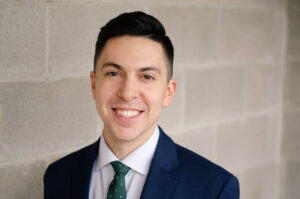 Patrick Graham, Baritone
Baritone Patrick Graham has been praised for his "vocal strength and beautiful tone" and for his "striking performance." Graham made his professional debut in Opera Columbus's production of La Boheme, featuring a new English libretto by American conductor and pianist Kathleen Kelly. Patrick is in his second season a member of the Grammy-award winning Kansas City Chorale. Previously, Patrick has performed as a soloist or principal artist with the the Eastman Philharmonic, the Mizzou University Philharmonic and Choral Union, Seagle Music Festival, Ad Astra Musical Festival, KC VITAs, Eastman Collegium Musicum (under the direction of Grammy-award winning Lutenist Paul O'Dette), Voices Chamber Choir, and the Eastman Opera Theater. Patrick received his Master's Degree from the Eastman School of Music and his Bachelor's Degree from the University of Missouri. He lives in Kansas City, where he currently serves as the Artistic Director for First Act Theatre Arts and sings with the Choir at St. Andrew's Espiscopal Church in Brookside.
Ernest Harrison, Tenor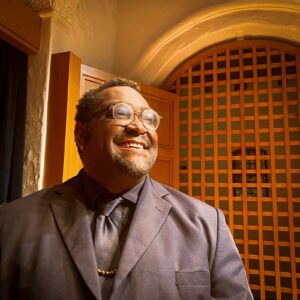 Ernest Harrison is a poet, musician, and teacher. He is a proud graduate of Tuskegee University (2010) where he completed his Bachelor's in English Liberal Arts. He later received his Bachelor's in Vocal Performance from Auburn University (2014), where he studied voice with world-renowned composers/conductors Dr. Rosephanye and William Powell. He then received his Master's in Choral Conducting from the University of Missouri (2016) under the tutelage of Dr. R. Paul Crabb. Ernest is currently ADB, concluding his Doctoral studies in Choral Music at the University of Southern California under the direction of Dr. Jo-Michael Scheibe. 
Ernest became a member of the international Grammy Award winning choral ensemble, Conspirare, in 2019. He was an associate conductor for the Grammy Award-winning National Children's Chorus (2017-2022) and conductor of the Pasadena Conservatory of Music's Cantare Chamber Choir (2019-2022). Ernest is now Music Director and Head of Education and Outreach of the Gay Men's Chorus of Los Angeles. Ernest has also taught as an adjunct professor at Pepperdine College, the University of Southern California, and Columbia University. He is currently teaching Voice and Music & Social Justice at Loyola Marymount University. Ernest is dedicated to the fight for social justice, equity, and inclusion in the choral classroom, on the concert stage, and in the world. Whether it be as a conductor, composer, arranger, vocalist, choral clinician, poet, or lecturer, his passion for people is the guiding light in every facet of his music making.
Anna De Ocampo Kain, Mezzo-Soprano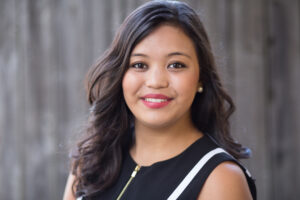 Anna De Ocampo Kain (she/her) is a Chicago-based soprano, originally from Liberty, Missouri. Anna sings as a professional chorister with Chicago ensembles such as the Chicago Symphony Chorus, Grant Park Music Festival, The William Ferris Chorale, Chicago Choral Artists, and La Caccina, and is a member of the 12-voice professional chorus at St. Chrysostom's Episcopal Church in Chicago. Anna performs in the Chicagoland as a soloist with ensembles such as the early music collective, The Marion Consort, Micro Opera Ensemble, and Hearing in Color. She holds a Bachelor of Music with honors in Voice Performance and Music Education from DePaul University. Anna is a founding member of Kababayan Collective, a Chicago Filipino choral ensemble and broader arts organization which advocates for the representation of Filipino music in the broader classical vocal canon. Anna was a performer and producer for Kababayan Collective's inaugural virtual variety show, which premiered streaming live January 2021, featuring Kundiman art song and remotely recorded choral performances of works by living Filipinx choral composers (bit.ly/kababayanwatch). When not singing, Anna freelances as a residential Realtor and vintage seller. She can typically be found antiquing or in the company of canines in her Portage Park, Chicago backyard.
Lindsey Lang, Soprano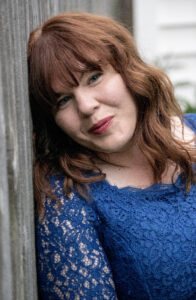 Soprano Lindsey Lang is noted for her bold interpretations of early music with a "tone [of] pure, radiant sunshine."  She has appeared as a soloist with modern and period orchestras nation-wide and has sung in main-stage events for early music festivals in Berkley, Bloomington, New Brunswick, New York, and Quito, Ecuador.  She frequently performs locally as a guest artist with the Bach Aria Soloists and the Kansas City Baroque Consortium.  Lindsey is also an avid choral singer, and in addition to singing with Prometheus, she currently sings with the Kansas City Chorale under the direction of Charles Bruffy, with whom she has recorded several commercial albums, won two Best Choral Album Grammys, and is a featured soloist on the Grammy-winning CD "Life and Breath."  Lindsey graduated with a Master's Degree in Choral Conducting from the University of Missouri in 2008 and then studied for two years at the Early Music Institute at Indiana University.  She currently resides in Kansas City with her singer husband and fellow Promethean Frank and is the Music Director at Asbury United Methodist Church and maintains an active performing career.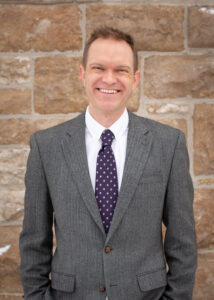 Gabriel Lewis-O'Connor, Bass
Gabriel Lewis-O'Connor balances a busy schedule as professional soloist and choral performer, daily meditator, conductor, avid amateur woodworker, father and husband.  Striving to bring humor, authenticity and emotion to all these passions is a lifelong pursuit.  Prior to his masters and doctoral studies in conducting at the University of Missouri-Kansas City Gabe sang for four years with the professional vocal ensemble Chanticleer, which crystalized his belief that relationships are the core of powerful music making.  Gabe received a bachelor's degree in vocal performance from Lawrence University in Appleton, Wisconsin and hails from Lawrence, Kansas, where he now lives with his wife Lauren, their feisty son Eamon and fiery daughter Celia. Gabe is the artistic director for the Lawrence Children's Choir (the group that sparked his passion for choral music over 25 years ago), as well as the director of choirs at Ottawa University.
Christine Jarquio Nichols, Mezzo-Soprano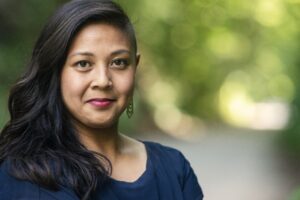 Christine Jarquio Nichols is an active music educator, singer, conductor, and collaborative pianist. She is the vocal arts director at Columbia Independent School and the Director of Music Liturgy at Sacred Heart Church. Christine has music directed shows with the University of Missouri's Theatre Department and Summer Repertory Theatre, Columbia Entertainment Company, and Maplewood Barn Theatre. She is the co-founder and Artistic Director of Vox Nova (VoxNovaComo.org). Her passion for singing choral music is realized in professional choral ensembles Prometheus, Vox Nova, and Pro-Arte of St. Louis. She also maintains a small private voice studio. Christine holds a dual Master of Music in Voice Performance and Choral Conducting, and a Bachelor of Science in Vocal Music Education. Outside of music and teaching, Christine loves to travel with her husband, Jay; run on the beautiful Columbia trails; and cook and eat any and all varieties of food.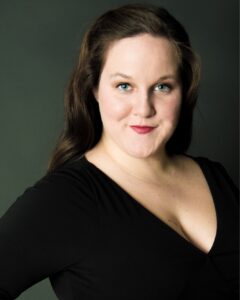 Catherine Sandstedt, Soprano
Cat Sandstedt, Coloratura Soprano, is a New York based musician pursuing a Doctorate of Musical Arts in Vocal Performance at Stony Brook University, where she studies voice with soprano, Brenda Harris. Ms. Sandstedt has performed many operatic roles, some including Dialogues des Carmélites (Blanche), Impressions de Pelléas (Mélisande), Il re pastore (Elisa), Le Nozze di Figaro (Susanna), Gianni Schicchi (Nella) and The Crucible (Mary Warren). Ms. Sandstedt also loves to teach voice lessons, which she does at Suffolk County Community College and Sound Beach Music on Long Island. Ms. Sandstedt has competed in many competitions and was a winner and soloist for the North Shore Choir Competition in 2019; placed top 10 in the Kentucky Bach Choir Competition in 2016; and placed 2nd in the Senior Women division at the 2015 National level of National Association of Teachers of Singing.
Nickolas Stoppel, Bass-Baritone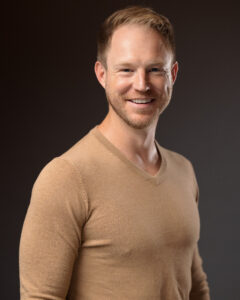 Nick Stoppel, is a multi-talented musician excelling in a variety of arenas from classical choral music to video game soundtracks. As a native of Kansas City, he continues to contribute across America and around the world both as a soloist and group member. Nick has been privileged to be a featured soloist on illustrious stages around the world including the National Centre for the Performing Arts in Beijing, Kings Place in London, the Maihama Amphitheater at Disney Tokyo and the Kauffman Center for the Performing Arts in Kansas City, Missouri. In December of 2018 he released his first Christmas album The Season of Light, which charted on the Official iTunes Top 100 Christmas Albums as well as the Top 15 New Christmas Albums of 2018 on iTunes. For six seasons, Nick was been a member of the Kansas City Chorale performing across the United States and Canada. Nick was privileged to be a part of the Chorale's recording, Rachmaninoff's All-Night Vigil, which won the 2015 GRAMMY® Award for Best Choral Performance. While based in Kansas City he also records and tours internationally with the Irish chorus, Anúna. As a member of Anúna his voice can be heard on multiple recording projects. He has appeared on tours throughout the United Kingdom, Ireland, Belgium, Italy, Iceland, Japan and China as well as performing on national television and radio in the Netherlands.
Alyssa Toepfer, Soprano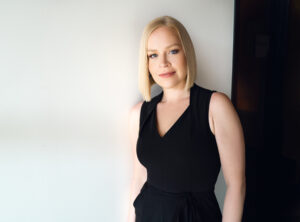 Soprano Alyssa Toepfer has been praised as a performer with "unbridled dexterity" (Kansas City Star) and a "marvelous, soaring tone" (KC Metropolis).
Recent stage credits include Jean Binnicker in the world premiere of Stinney: An American Execution with Opera Grand Rapids and the soprano soloist in Benjamin Boyle's Cantata No. 1 with the Midwest Chamber Ensemble. Additional roles include Musetta (La bohéme) with Opera180, Jemmy (Guillaume Tell) with Wichita Grand Opera, Pamina (Die Zauberflöte) with the South Dakota Symphony, Gretel (Hӓnsel und Gretel) with Opera Omaha, Zerlina (Don Giovanni) with Lawrence Opera Theatre, Adele (Die Fledermaus) with Opera South Dakota, and Littler Daughter (Proving Up) with the Ad Astra Music Festival. As a choral musician, she sings with The Missouri Choral Artists, Spire Chamber Ensemble, Prometheus, and The Kansas City Chorale.
Alyssa was a district winner in the Metropolitan Opera National Council Auditions. She holds degrees from Augustana University and University of Missouri-Kansas City Conservatory of Music and Dance. Alyssatoepfersoprano.com
Jeremy Wagner, Bass-Baritone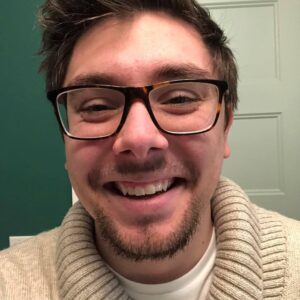 Jeremy Wagner, bass-baritone, is a director and singer based out of Columbia, Missouri. Wagner is currently the Director of Choral Activities at Missouri Valley College located in Marshall, Missouri where they are responsible for leading the choir as well as teaching curricular music courses. Wagner has sung in a professional choral setting with award-winning ensemble, Vox Nova for several years and enjoys the opportunities to perform at a high level. Having achieved a Masters in Music from the University of Missouri, Wagner has since worked diligently to establish themself as a choral educator and conductor. Wagner currently works with Emily Edgington Andrews in their work with Choral Arts Alliance of Missouri as the Adult Choirs Coordinator. Wagner excitedly debuts with Prometheus with these upcoming performances.
---