---
Emily Edgington Andrews – CAAM Artistic Director, Canta Bella Conductor and Cambiare Co-Conductor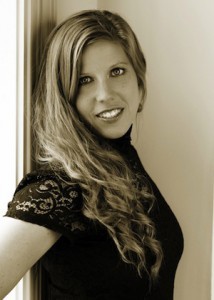 Long an advocate for quality musical arts in the community, Emily Edgington Andrews is extremely active in Columbia, working with children and adults at every level of their musical development.
Emily is a third-year Ph.D. candidate in music education at the University of Missouri, where she conducts the MU Women's Choir, co-conducts Concert Chorale, and teaches various courses in music. In addition to her work at MU, she is the Artistic Director and a Conductor for Choral Arts Alliance of Missouri, an organization that offers exceptional choral experiences accessible to everyone from youth to adults. She serves as the Assistant Conductor for the professional chamber vocal ensemble, Prometheus: An American Vocal Consort. Emily is in her thirteenth-year as one of the vocal music teachers at Columbia Independent School, the city's only non-sectarian college preparatory campus, conducting two of the six ensembles for students in grades 4-12. Additionally, this year marks her fifteenth as conductor at the historic Sacred Heart Catholic Church in Columbia, MO.
Emily regularly serves as a guest clinician and adjudicator, and is an active member of the American Choral Directors Association and the National Association for Music Education. She received her degrees in Music at Truman State University, Kirksville, Missouri (B.A.; M.A.) and at the University of Missouri (M.M.).
---
Amanda Furtick – Bella Voce Co-Conductor and Canta Bella Pianist
Amanda Furtick is a University of Missouri graduate, where she studied Vocal Music Education with a concentration in piano. During her undergraduate, she was heavily involved in several collegiate choirs and operas, accompanied the MU Women's Choir and several vocalists, and taught private piano/voice lessons to students in grades K-12.
She is currently the choir director at North Callaway Middle School and High School and contemporary worship leader at Community United Methodist Church. In addition to teaching and accompanying, Amanda has also vocally directed with TRYPS, a local theatre troupe, and has enjoyed various performing opportunities as a soprano, such as the Southside Philharmonic Orchestra's early baroque program and the Bach Collegium Choir.
As someone who developed her passion for music in early middle school, Amanda is an advocate for using music as an outlet and safe space during a time when students are figuring out who they are and is excited for her 3rd year with the CYC family!
---
Anthony Hernandez – Columbia Chorale and Chamber Choir Pianist
Anthony Hernandez is a collaborative pianist, organist, composer and teacher who earned his Bachelor of Music in Music Composition from the University of Missouri-Columbia in 2009.
He has worked as music director, rehearsal accompanist, assistant music director and/or pit keyboardist for over 20 musical productions, including Jesus Christ Superstar, Into the Woods and The Wizard of Oz, with numerous production companies, including Lyceum Arrow Rock Theatre, University of Missouri Theatre Department, Columbia Entertainment Company, PACE Children's Theatre, among others. He has performed extensively as collaborative and solo pianist throughout Missouri, the Midwest, southern California, and in Brasília, Brazil. As a composer, he premiered orchestral works with the Columbia Civic Orchestra and the 9th Street Philharmonic Orchestra and continues to compose new works, including a piano concerto at the Strange New Worlds Part Four exhibition at Talking Horse Productions.
Hernandez was accompanist for the Quorus (Columbia's premiere LGBTQQA-Z community chorus), since it's founding in November 2016, and regular on-staff collaborative pianist for Stephens College of the Performing Arts and Columbia College of Missouri. He was ballet accompanist with Columbia Performing Arts Center, playing for their summer intensive programs 2015 to 2018. He served as pianist and organist at First Church of Christ, Scientist of Columbia 2012 to 2018 and at Missouri United Methodist Church for 11 years. Hernandez also has maintained a full piano studio, teaching students of all ages, all styles of music from pop and rock to classical, musical theatre and jazz.
In the summer of 2018, Hernandez moved to Los Angeles, CA, where he was piano and beginning violin instructor at Sunset Learning Studio in Manhattan Beach. He provided service music for the Twentieth Church of Christ, Scientist in Venice on Sunday mornings and was piano accompanist for the Culver City Middle School choirs, and was a regular ballet pianist at the Pasadena Dance Theatre. Due to the global pandemic, he returned to Missouri, in St Louis, where he taught lessons virtually and has also returned to his alma mater to pursue graduate studies in Collaborative Piano.
---
Maddie Jenkins – Cambiare Pianist
---
Nathan Lange – Columbia Chorale Assistant Conductor and Columbia Chamber Choir Co-Conductor
Nathan R. Lange is a choral conductor and composer. Originally from Stewartville, MN, he holds a Bachelor's of Music Education degree from Wartburg College in Waverly, IA. He has taught vocal music in grades 7-12 at the districts of both Albert Lea in Minnesota and Wapsie Valley in Iowa. He is currently pursuing a Master's in Choral Conducting at the University of Missouri.
---
Christine Jarquio Nichols – Bella Voce Co-Conductor
Christine Jarquio Nichols is an active music educator, singer, conductor, and collaborative pianist. She is the vocal arts director at Columbia Independent School and the Director of Music Liturgy at Sacred Heart Church. Christine has music directed shows with the University of Missouri's Theatre Department and Summer Repertory Theatre, Columbia Entertainment Company, and Maplewood Barn Theatre. She is the co-founder and Artistic Director of Vox Nova (VoxNovaComo.org). Her passion for singing choral music is realized in professional choral ensembles Prometheus, Vox Nova, and Pro-Arte of St. Louis. She also maintains a small private voice studio. Christine holds a dual Master of Music in Voice Performance and Choral Conducting, and a Bachelor of Science in Vocal Music Education. Outside of music and teaching, Christine loves to travel with her husband, Jay; run on the beautiful Columbia trails; and cook and eat any and all varieties of food.
---
Topher Otake – Cambiare Co-Conductor
Bio coming soon!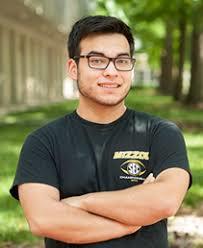 ---
Brian Parks – Primo Pianist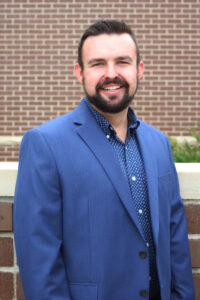 Brian Parks is excited to join the Choral Arts Alliance of Missouri family in the fall of 2019, where he serves as accompanist for Cambiare and Bella Voce and sings in the bass section of the Columbia Chorale. For the past 10 years, he has been a music educator at both private and public schools throughout central and northeast Missouri. Brian currently serves as Director of Vocal Music for the Macon County R-I School District, where he teaches 6th grade music, directs five curricular ensembles, and serves as the music director for MHS theatre productions. Brian regularly serves as an accompanist and adjudicator for music festivals across the state and was appointed in 2017 to serve on the Missouri Department of Elementary and Secondary Education workgroup that revised the curriculum standards used in PK-12 fine arts classrooms across the state. He holds degrees from Missouri Baptist University (Bachelor of Music Education, 2010; Educational Specialist, 2018) and the University of Missouri-Columbia (Master of Education, 2013).
---
Molly Thurmon – Poco Voce Conductor
Bio coming soon!
---
Jordan Walker – Primo Choir and Columbia Kid's Gospel Choir Conductor

Jordan Blane Walker, tenor, attended both Evangel University for his degree in music education (BM) and the University of Missouri where he worked on a master's in choral conducting (MM) with Dr. R. Paul Crabb.  An active chorister and director, Mr. Walker has performed with and directed/assistant directed numerous choral ensembles including Vox Nova, Springfield Mid-America Singers, Husky Harmony (3rd-5th grade after-school choir), Columbia Chorale (CAAM), Primo Choir (CAAM), Women's Chorale (University of Missouri), the church choirs of First Presbyterian Church of Columbia and First Presbyterian Church in Fulton, Battle High School Vocal Arts ensembles Siren Sound and Apollo, and University Singers (UM).  Jordan has also performed the title role in The Mikado, Guglielmo in Cosi fan Tutte, Barnaby Tucker in Hello, Dolly!, and Charlie Brown in You're a Good Man, Charlie Brown, as well as working as stage manager for the spring 2016 Show-Me Opera production of Le Nozze di Figaro under the direction of Christine Seitz.  Mr. Walker is currently an elementary music teacher in the Columbia Public School District and looks forward to fostering a culture of choral singing among younger singers as well as nurturing a mindset of critical thinking, self-dependency, competence, and self-efficacy with students.
---
LaMont Walker, Columbia Community Gospel Choir Conductor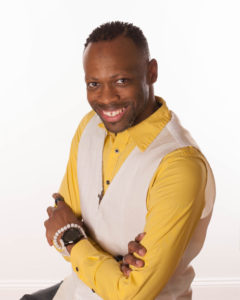 This singer, musician, preacher, author, and much more is a native of Kansas City, MO. His parents established him on a foundation rich in the love of God and gospel music. Continuing in his musical heritage, LaMont has learned multiple instruments and perfected his gift of music. He has been blessed to share the stage with artists such as the Kansas City Boys Choir, the Harlem Boys Choir, Richard Smallwood, Dorinda Clark-Cole, and many others! LaMont is a graduate of the Southeast High School (1999) and the University of Missouri-Columbia (B.A. in Music Performance 2005). He celebrates many accomplishments. In 2016, LaMont and Voices of Power and Glory released their first singles "Love Lifted Me" and "He Did It Again," which were written by LaMont and are available for purchase at all digital stores. Other accomplishments include 1st place victory at the national BSU retreat choir competition, four years directing the LBC gospel choir (MU), founding His Word His Way ministry, and releasing his first book, Internal Pieces. In 1999, LaMont connected to the ministry of Bishop Dr. R.L. Freeman, where he remains submitted and covered. Under Bishop Freeman's tutelage, LaMont received his ministry license in 2004, ordination as Elder in 2005, and elevation to the position of General Overseer in 2009. He serves as overseer of music and performing arts for his church, United Community Cathedral, and the fellowship, Christians Equipping Christians for Outreach (Presiding Prelate-Bishop Dr. R.L. Freeman and Metropolitan-Bishop Larry D. Trotter). On October 5, 2014, Bishop Freeman appointed LaMont to serve as assistant pastor of United Community Cathedral. On August 29, 2015, LaMont was installed as assistant pastor of UCC. He also volunteers as a mentor for United Community Builders CDC program Weekend With The Boys. Pastor Walker has traveled across America spreading the good news of the Gospel through anointed music, preaching, and teaching. He continues to do so under the leading of the Holy Ghost, praying that all would have a God-experience as a result of his dedication to the Kingdom, serving in the Levitical Order.