2023-2024 Season
---
Amahl and the Night Visitors by Gian Carlo Menotti
Hosted by Columbia Civic Orchestra
Show-Me Opera, Columbia Chamber Choir, and Columbia Civic Orchestra
7:30 p.m.  December 9, 2023
First Baptist Church (1112 E Broadway)
FREE and open to the public.
Members of Columbia Chorale join forces with Columbia Civic Orchestra and Mizzou's Show-Me Opera to present Menotti's beloved seasonal opera Amahl and the Night Visitors.
---
Songs of Children: A Holocaust Remembrance
Columbia Chamber Choir
7 p.m., January 27, 2024
Sacred Heart Catholic Church (105 Waugh St.)
In commemoration of International Holocaust Remembrance Day, Columbia Chamber Choir presents Songs of Children, a cantata composed by Robert Convery to honor the youngest victims of the Holocaust. Using poetry written by children interned at the Terezín Concentration Camp in the Czech Republic, Convery beautifully and achingly depicts the "spiritual transformation of a child," from "the naïve state of entry into the concentration camp" to "the quick, brutal confrontation with the reality of the camp," ending with the transcendent reality that "the soul cannot be harmed, though the body be humiliated, degraded and destroyed."
---
Unity: A Benefit Concert
Columbia Community Gospel Choir
with special guests
Community Gospel Choir of St. Louis,
Unified Voices Gospel Choir from Columbia College,
& MU's Legion of Black Collegians Gospel Choir
7 p.m., February 10, 2024
Launer Auditorium, Columbia College
CAAM promotes Unity in the Community in its 9th-annual concert to honor Martin Luther King, Jr.'s legacy through a benefit concert performance of gospel-inspired works. Hailed as one of CAAM's most powerful and uplifting concerts, Unity brings together individuals of all faiths and backgrounds to celebrate diversity and raise money for a local nonprofit. Past concerts have raised over $16,500 for Youth Empowerment Zone, Granny's House, United Community Builders, BOLD Leadership Academy, City of Refuge, and Voluntary Action Center's Opportunity Campus. This year, we join together, heeding Dr. King's persistent call to work for the good of others: "Whenever you are engaged in work that serves humanity and is for the building of humanity, it has dignity, and it has worth."
---
"Bach" in Action
Prometheus: An American Vocal Consort
Tour April 3-6, 2024
Columbia, Missouri
Prometheus returns for a second short tour to perform in the highly acclaimed Odyssey Chamber Music Series.
2024 Tour Performance Schedule
Friday, April 5
Odyssey Concert Series Baroque Concerto Concert
Saturday, April 6
Private House Concert, Columbia
Tickets: $100/Person
---
Carmina Burana
Columbia Chorale with Mareck Dance
7 p.m., April 26 & 27, 2024
Jesse Hall
Fortune strikes again! After an incredibly successful two-night run in 2019, five years later, Mareck Dance (formerly Missouri Contemporary Ballet) and Choral Arts Alliance of Missouri team up again to produce Carl Orff's timeless work in the way he envisioned: "total theatre," combining music, words, and movement to produce a thrilling effect.
---
Let's Go to the Movies
Columbia Youth Choirs
5 p.m. May 5, 2024
CYC concludes another dynamic season with a show-stopping performance of visual and musical art that will keep audience members on the edge of their seats. Come in your best red carpet ensemble, grab your popcorn, and experience both familiar and new films and music, in an amazing blend of sight and sound.
---
Past Concerts of the 2023-2024 Season
---
Pairings: A Third Helping
Prometheus: An American Vocal Consort
Tour September 14-17, 2023
Columbia and Rocheport, Missouri
CAAM's Artists-in-Residence Prometheus under Artistic Director R. Paul Crabb take audiences on one last journey throughout the world in a "delicious" concert experience. Prometheus' fourteen professional singers present sublime a cappella choral music in intimate settings, where audiences will enjoy wine and food specifically chosen to pair with each musical piece. This imaginative feast for the senses is not to be missed!
2023 Tour Schedule
Saturday, September 16

Workshop and Informal Concert with Community Members
10:00-1:00 p.m.
Dorsey Gym, Columbia College
1001 Rodgers St. | Columbia, MO
Prometheus works with members of the community in an interactive and engaging educational workshop. Later that evening, the combined groups will present a short, informal concert open to the public.
-include the cost of lunch and t-shirt in the workshop cost ($25/person)
Just a Taste
5:00 p.m.
Dorsey Gym, Columbia College
1001 Rodgers St. | Columbia, MO
Enjoy selections of wines and/or non-alcoholic beverages inspired by exquisite a cappella music from representative regions around the world. Light appetizers served. [Hosted by Columbia College.] Free-will donation gratefully accepted.
Sunday, September 17, 2023

The Full Feast
4:30-6:30 p.m.
Les Bourgeois Vineyards Blufftop Bistro
14020 West Hwy BB | Rocheport, MO
Tickets no longer available.
Enjoy a four-course dinner paired with award-winning wines, inspired by exquisite a cappella music from representative regions around the world. Limited seating available. Please reserve your tickets by September 6. Tickets available online on the CAAM website or in person at the Yellow Dog Bookshop.
Tickets:
$100/Person
---
The Perseverance of Hope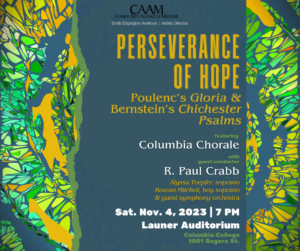 Poulenc's Gloria and Bernstein's Chichester Psalms
Columbia Chorale
With guest conductor R. Paul Crabb of Prometheus
7 p.m. November 4, 2023
Launer Auditorium, Columbia College (901 Rogers St.)
Columbia Chorale begins its 45th anniversary season celebrating its past while looking toward the future with two beloved masterworks of Francis Poulenc and Leonard Bernstein. Guest conducted by Prometheus Artistic Director, Dr. R. Paul Crabb, The Perseverance of Hope uses ancient religious texts and songs to explore the human emotional experience in new and surprising ways. In his Gloria, Poulenc expresses the joy, wonder, and solemnity of the traditional Latin text with eclectic and unconventional style. Bernstein's Chichester Psalms depicts the composer's hope for brotherhood and peace with his hybrid of ancient and contemporary culture, Jewish and Christian faiths, and modern yet accessible melodies.
---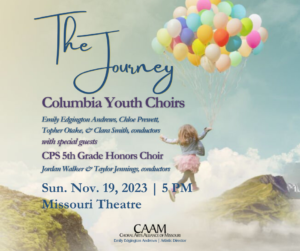 The Journey
Columbia Youth Choirs with the CPS 5th Grade Honors Choir
5 p.m., November 19, 2023
Missouri Theatre (203 S. 9th St.)
Join CYC in its 11th season, along with special guests from the CPS 5th Grade Honors Choir, as it voyages far and wide to explore songs of travel, adventure, and the lessons learned along the way. Take a trip through the highs and lows, bumps and blocks, twists and turns, as we discover that life is a journey — not a destination.
---
To view past concerts click below:
---