Paul Crabb, Prometheus Artistic Director and Conductor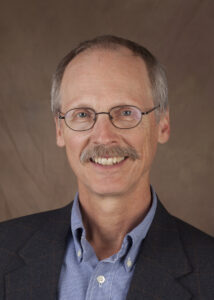 R. Paul Crabb is Artistic Director of the professional vocal ensemble, PROMETHEUS and Professor Emeritus at the University of Missouri where served as Director of Choral Activities and Chair of Graduate Choral Conducting. His ensembles have sung at state, regional and national conventions, and traveled extensively in Asia, Europe, and Australia. Crabb has served as assistant conductor at the Russian-American symposium at the Moscow Conservatory and as a visiting professor in England, Austria, Sweden,Taiwan, and Poland. He was the first American Visiting Choral Professor at the Liszt Academy of Music (Budapest), and first American lecturer at the Choral Department at the University of Vienna's Universität für Musik und Darstellende Kunst. Since 2012 Crabb has served as a faculty member at Laudate Dominum in Vienna. As an orchestral conductor, Crabb was resident conductor for the Dante Music and Arts Festival in Nagoya, Japan, and regularly conducts at the Conservatory of Domenico Cimarosa in Italy.
Crabb's travels facilitate opportunities for students. In December 2017, he organized seminars and performances for graduate students in Italy, culminating at the newly restored Gesualdo Castle. His semester conducting/lecturing in Sweden resulted in collaborative concerts for University Singers in Malmö, Lund, Piteå, Stockholm and Tallinn, Estonia, in May 2018. In 2019 conducted again in Vienna, before additional conducting workshops in Slovenia and Italy. Regretfully, the pandemic resulted in canceled lectures and tours scheduled for Inner Mongolia and Cuba in the past three years.
Crabb's teaching awards include: Allen Teaching Award (Truman State University), the Missouri Professor of the Year, and Kemper Award for Teaching (MU).
---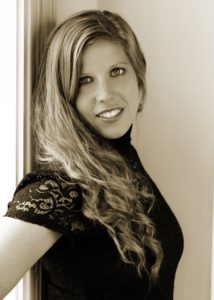 Emily Edgington Andrews, Prometheus Assistant Conductor
Long an advocate for quality musical arts in the community, Emily Edgington Andrews is extremely active in Columbia, working with children and adults at every level of their musical development.
Emily is thrilled to have joined the Columbia College Visual Arts and Music team as a newly appointed Music Faculty member in August 2022. There she teaches various courses in music, gives private voice lessons, co-conducts the Jane Froman Singers and conducts the Froman Treble Choir, and leads recruiting efforts for the music area.
In addition to her work at Columbia College, Emily is the Artistic Director of Choral Arts Alliance of Missouri, a non-profit organization that offers choral experiences for youth through adults, and is the founder of CAAM's youth choir subset, Columbia Youth Choirs. Through CAAM, she conducts Columbia Chorale and Columbia Youth Choirs' Canta Bella, and serves as the Assistant Conductor for the professional chamber vocal ensemble, Prometheus: An American Vocal Consort. Emily is the conductor at the historic Sacred Heart Catholic Church in Columbia, MO, where she maintains a thriving music program, conducting the Adult Choir of volunteer and paid musicians.
Emily regularly serves as a guest clinician and adjudicator, and is an active member of the American Choral Directors Association, Missouri Choral Directors Association, and the National Association for Music Education. She received her degrees in Music at Truman State University, Kirksville, Missouri (B.A.; M.A.) and at the University of Missouri (M.M.). Emily is a Ph.D. candidate in Music Education at the University of Missouri. Her research interests include investigating gender disparity in collegiate and professional choral ensembles and creating inclusive classroom spaces.
---
SINGERS
---
Frank Fleschner, Tenor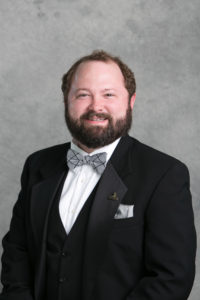 Tenor Frank Fleschner is an accomplished choral musician having just began his nineteenth season with the Grammy Award-winning Kansas City Chorale. His tenure with the Chorale has afforded him the opportunity to work closely with and debut works by several prominent composers such as Mark Hayes, René Clausen, and Eric Whitacre. As a soloist, Frank has appeared in Handel's Messiah, Bach's Johannes-Passion (Evangelist), Mendelssohn's Elijah and is the featured tenor soloist on the Kansas City Chorale's Grammy Award-winning recording of Rachmaninoff's All Night Vigil. Frank graduated from Truman State University and currently resides in Kansas City with his wife, Lindsey, and sings at Asbury United Methodist Church in Prairie Village, KS.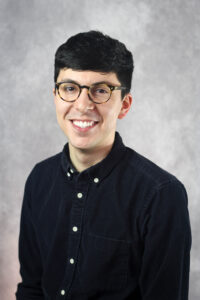 Patrick Graham, Baritone
Baritone Patrick Graham has been praised for his "vocal strength and beautiful tone" and for his "striking performance." Graham made his professional debut in Opera Columbus's production of La Boheme, featuring a new English libretto by American conductor and pianist Kathleen Kelly. Patrick is in his second season a member of the Grammy-award winning Kansas City Chorale. Previously, Patrick has performed as a soloist or principal artist with the the Eastman Philharmonic, the Mizzou University Philharmonic and Choral Union, Seagle Music Festival, Ad Astra Musical Festival, KC VITAs, Eastman Collegium Musicum (under the direction of Grammy-award winning Lutenist Paul O'Dette), Voices Chamber Choir, and the Eastman Opera Theater. Patrick received his Master's Degree from the Eastman School of Music and his Bachelor's Degree from the University of Missouri. He lives in Kansas City, where he currently serves as the Artistic Director for First Act Theatre Arts and sings with the Choir at St. Andrew's Espiscopal Church in Brookside.
Christine Jarquio, Mezzo-Soprano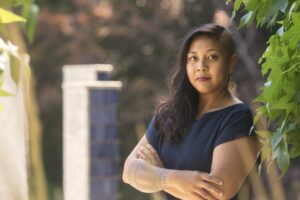 A force in the local music community for almost two decades, Christine Jarquio (she/her) is a sought after collaborative artist from choral to musical theatre, and pianist to conductor. She is the Director of Vocal Arts at Columbia Independent School and also serves as Director of Diversity, Equity, Inclusion, and Belonging. These platforms, especially in tandem, allow for the uplifting and spreading awareness of lived experiences in order to nurture more compassion in this world.
Christine is a strong proponent of being an active musician both in and outside of the classroom. Singing in Prometheus since its second season is always a highlight of her year. She also co-founded and is the Artistic Director of Vox Nova (www.voxnovacomo.org), another professional choir whose mission is to provide free performances of high quality choral music with thoughtful and informative programming to the local community.
Outside of music and teaching, Christine loves to travel with her husband, Jay; run on the beautiful Columbia trails; and cook and eat any and all varieties of delicious food.
Lindsey Lang, Soprano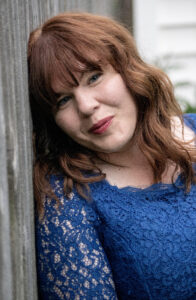 Soprano Lindsey Lang is noted for her bold interpretations of early music with a "tone [of] pure, radiant sunshine."  She has appeared as a soloist with modern and period orchestras nation-wide and has sung in main-stage events for early music festivals in Berkley, Bloomington, New Brunswick, New York, and Quito, Ecuador.  She frequently performs locally as a guest artist with the Bach Aria Soloists and the Kansas City Baroque Consortium.  Lindsey is also an avid choral singer, and in addition to singing with Prometheus, she currently sings with the Kansas City Chorale under the direction of Charles Bruffy, with whom she has recorded several commercial albums, won two Best Choral Album Grammys, and is a featured soloist on the Grammy-winning CD "Life and Breath."  Lindsey graduated with a Master's Degree in Choral Conducting from the University of Missouri in 2008 and then studied for two years at the Early Music Institute at Indiana University.  She currently resides in Kansas City with her singer husband and fellow Promethean Frank and is the Music Director at Asbury United Methodist Church and maintains an active performing career.
Gabriel Lewis-O'Connor, Bass
Gabe Lewis-O'Connor balances a busy schedule as conductor, professional soloist and choral performer, daily meditator, amateur woodworker, avid baker, father, and husband. Striving to bring humor, authenticity and emotion to all these passions is a lifelong pursuit. Prior to his masters and doctoral studies in conducting at the University of Missouri-Kansas City Gabe sang for four years with the professional vocal ensemble Chanticleer, which crystalized his belief that relationships are the core of powerful music-making. Gabe is the artistic director of the Lawrence Children's Choir and hails from Lawrence, Kansas, where he now lives with his wife Lauren, their sporty son Eamon and fierce daughter Celia.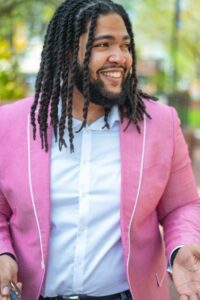 David Pelino, Tenor
David Pelino, tenor, is a vocal artist well versed in both solo and ensemble repertoire. While studying voice with Ron Burrichter, he completed two Bachelors of Music degrees in Music Education and Vocal Performance from the University of Florida. While attending the University of Missouri for a Master of Music, he studied voice with Steven Tharp.

Some of David's solo credits include tenor solo repertoire in works such as Theodore Dubois' The Seven Last Words of Christ, Benjamin Britten's Rejoice in the Lamb, G.F. Handel's Messiah, Adolphus Halistork's I Will Lift Up Mine Eyes, as well as performing the roles of King Kaspar in Amahl and the Night Visitors, and the Evangelist in J.S. Bach's St. John Passion. As a solo singer, he has won numerous awards including the Grady-Rayam 2018 Upper Division Negro Spiritual Prize, the 2019 Central Region NATS Advanced Division 1st Place Winner, as well as being a National NATS semifinalist in 2020. He was most recently featured as a tenor soloist at the University of Florida's Sounds of the Season concert. Equally at home in ensemble singing, David has had the distinct privilege of singing with choirs under the direction of Dr. Andrew Megill, Dr. Brandon A. Boyd, Dr. R. Paul Crabb, and Dr. Willard Kesling. His ensemble singing has also extended into chamber groups, as he has also been a featured member of quartets performing Johannes Brahms' Liebeslieder Waltzer and the "Offertorio" from Giuseppe Verdi's Messa da Requiem. He is currently on the roster of professional vocal ensembles Prometheus and Seraphic Fire.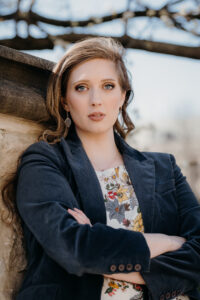 Christina Ray, Mezzo-Soprano
Praised for her "velvety mezzo" (OperaWire), Christina Ray is equally at home on the operatic, concert, and musical theatre stages. Recent roles include Mrs. Splinters in Aaron Copland's The Tender Land and Ms. Lark in Mary Poppins with Utah Festival Opera and Musical Theatre, Béatrice in Béatrice et Bénédict, with Landlocked Opera, Celeste #1 in Sunday in the Park with George, Ramiro in Mozart's La finta giardiniera, Hänsel from Humperdinck's Hänsel und Gretel, and Maman/la tasse Chinoise/la libellule in Ravel's L'enfant et les sortilèges. As an active choral singer, Ms. Ray is a member of Vox Nova and is thrilled to make her Prometheus debut!
Ms. Ray has sung professionally with the Lyric Opera of Kansas City, Overland Park Orchestra, The Missouri Symphony, and Manhattan Concert Productions. In 2016 she was a recipient of an Encouragement Award at the Metropolitan Opera National Council Auditions, in the Little Rock, AR district.
Ms. Ray is the Founding General Director of boutique opera company, Landlocked Opera. Landlocked Opera makes opera accessible to our community by celebrating historic operas while championing new works, ideas, and artists. Believing strongly in breaking down barriers and opera stereotypes, Landlocked Opera's motto is "Opera for All."
Ms. Ray is an evidence-based voice specialist and Professor of Voice at MU. She co-created Classically Untrained Voice Collective, a community of voice professionals committed to offering continuing educational opportunities in voice cross-training. Ms Ray also serves as treasurer for Mid-MO NATS.
Jonathan Ray, Tenor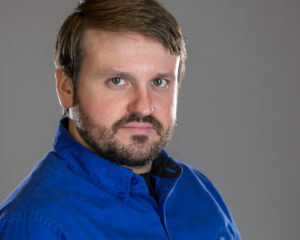 Jonathan Ray is Assistant Professor of Music at Central Methodist University where his duties include directing and conducting the operas, conducting the musical theater productions, and teaching applied voice. He is also music director of traditional worship at First Baptist Church of Columbia. He holds a DMA in Vocal Performance and Choral Conducting from LSU, an MM in Vocal Performance from UNC-Greensboro, and a BME in Vocal/Instrumental Music Education from Arkansas Tech University. As a soloist, Jonathan has appeared professionally with such companies as Utah Festival Opera & Musical Theatre, the Lyric Opera of Kansas City, the Missouri Symphony, and Heartland Opera Theatre. He has performed many principal roles in operas including Così fan tutte, Roméo et Juliette, Die Fledermaus, La Traviata, Béatrice et Bénédict, and Il barbiere di Siviglia. Recent concert work includes the tenor solos in Carmina Burana (Orff), Requiem in D Minor (Mozart), Cantata (Stravinsky), BWV 148 (Bach), and Songs from Liquid Days (Glass). Jonathan is also artistic director for Landlocked Opera, where he recently conducted the world premier of The Murderess. He loves spending time with his beautiful wife Christina and their adorable daughter Lucy. Jonathan is very grateful for the opportunity to perform with Prometheus.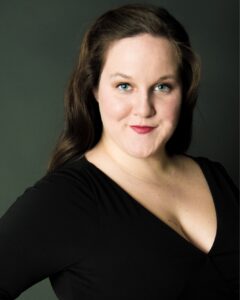 Catherine Sandstedt, Soprano
Catherine Sandstedt (She/Her), Coloratura Soprano, is a native of Columbia, Missouri, who now resides in New York, where she just completed her Doctorate of Musical Arts (DMA) in Vocal Performance from Stony Brook University in May of 2023. Dr. Sandstedt currently studies voice with soprano, Brenda Harris, after she concluded her undergraduate studies at Mizzou with Ann Harrell in 2016. Dr. Sandstedt has performed many operatic roles, some including Dialogues des Carmélites (Blanche), Impressions de Pelléas (Mélisande), Il re pastore (Elisa), Le Nozze di Figaro (Susanna) and Rinaldo (Almirena). She has also sung in several choral ensembles, including NYC's Marble Collegiate Choir, as well as Vox Nova and Prometheus, both based in Columbia, MO. Additionally, she loves to teach Applied Music in Voice at Suffolk County Community College, as well as privately. Dr. Sandstedt has competed in many competitions and was a 1st place winner and soloist for the North Shore Choir (2019); placed top 10 in the Kentucky Bach Choir Competition (2016); and placed 2nd in the Senior Women division at the 2015 National level of National Association of Teachers of Singing (NATS). For more info on Catherine Sandstedt, please visit: www.catherinesandstedtsoprano.com
Clara Smith, Soprano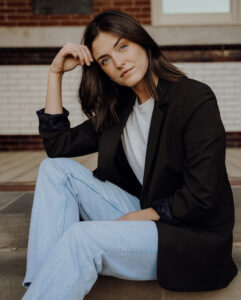 Clara Smith is an avid musician performing both as a vocalist and conductor around the world. She received her undergraduate degree in vocal music education from Missouri State University where she had the opportunity to travel as a chorister quite extensively both domestically and internationally. She recently received her Masters in Choral Conducting from the University of Missouri and plans to pursue her DMA in Choral Conducting. She now serves as an adjunct professor in Music Theory at Columbia College as well as the director of treble choir, Bella Voce. Clara recently traveled to London and performed as a soloist with the University of Missouri's Concert Chorale and Vox Anima Symphony. She has performed as a soloist for a wide variety of repertoire and venues including a United States presidential inauguration. Clara is thrilled to perform under the direction of Dr. R. Paul Crabb alongside such talented musicians.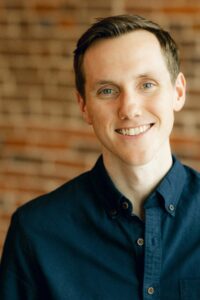 Bryan Stenson, Tenor
Born and raised in Tokyo, Japan, Bryan Hiroto Stenson attended and graduated from St. Mary's International School in Tokyo, where he sang in the choral program under the direction of his parents. He received his Bachelor of Music in Vocal Performance from Pacific Lutheran University in Tacoma, WA and his Master of Music in Choral Conducting from Butler University in Indianapolis, IN. He served six years in the U.S. Army Band "Pershing's Own," singing for global leaders, nationally televised events, and the public. He earned his Doctor of Musical Arts in Choral Conducting at George Mason University in Fairfax, VA, and researched Ko Matsushita's choral arrangements of Japanese folk songs. Dr. Stenson works with a variety of ages and abilities. Past organizations include the Indianapolis Symphonic Choir, the Tacoma Youth Chorus, the Children's Chorus of Washington, the Chamber Chorale of Fredericksburg, and Christ United Methodist Church in Plano, TX. Dr. Stenson currently serves as Assistant Professor of Music at Columbia College in Missouri.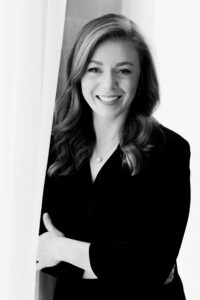 McKenna Stenson
As an innovative conductor, teacher, and vocalist, McKenna Stenson has built a career inspiring students to sing confidently and motivating communities to create lasting change through song. Her energetic demeanor permeates positivity throughout the ensemble, creating a community of compassion, trust, and resilience.
Stenson currently serves on the faculty at the University of Kansas (KU) as the Associate Director of Choral Activities where she conducts the KU Glee Club and Oread Singers. In addition to leading ensembles, Stenson teaches classes in choral rehearsal technique, undergraduate conducting, and voice.
Nickolas Stoppel, Bass-Baritone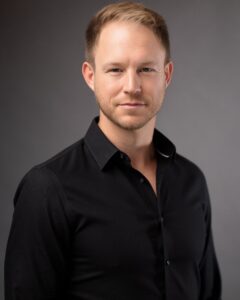 Nick Stoppel, is a multi-talented musician excelling in a variety of arenas from classical choral music to video game soundtracks. As a native of Kansas City, he continues to contribute across America and around the world both as a soloist and group member. Nick has been privileged to be a featured soloist on illustrious stages around the world including the National Centre for the Performing Arts in Beijing, Kings Place in London, the Maihama Amphitheater at Disney Tokyo and the Kauffman Center for the Performing Arts in Kansas City, Missouri. In December of 2018 he released his first Christmas album The Season of Light, which charted on the Official iTunes Top 100 Christmas Albums as well as the Top 15 New Christmas Albums of 2018 on iTunes. For six seasons, Nick was been a member of the Kansas City Chorale performing across the United States and Canada. Nick was privileged to be a part of the Chorale's recording, Rachmaninoff's All-Night Vigil, which won the 2015 GRAMMY® Award for Best Choral Performance. While based in Kansas City he also records and tours internationally with the Irish chorus, Anúna. As a member of Anúna his voice can be heard on multiple recording projects. He has appeared on tours throughout the United Kingdom, Ireland, Belgium, Italy, Iceland, Japan and China as well as performing on national television and radio in the Netherlands.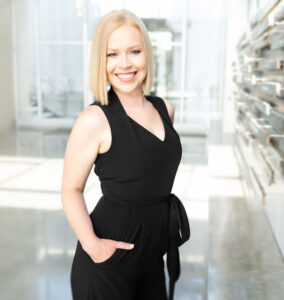 Alyssa Toepfer, Soprano
Alyssa Toepfer has been praised as a soprano with "unbridled dexterity (Kansas City Star) and a "marvelous, soaring tone" (KC Metropolis). Favorite opera roles include Tink Enraught (The Last American Hammer) with Opera Grand Rapids, Gretel (Hӓnsel und Gretel) with Opera Omaha, Littler Daughter (Proving Up) with the Ad Astra Music Festival, Jemmy (Guillaume Tell) with Wichita Grand Opera, Pamina (Die Zauberflöte) with The South Dakota Symphony, and Musetta (La bohème) with Opera180.
Her concert soloist engagements include Vaughan Williams' A Sea Symphony, Mozart's Requiem, Poulenc's Gloria, Brahms' Ein deutsches Requiem, Handel's Messiah, Haydn's Lord Nelson Mass, and Vivaldi's Gloria. As a choral musician, she is on the rosters of Conspirare, The Crossing, Spire Chamber Ensemble, The Missouri Choral Artists, Prometheus, and The Kansas City Chorale.
Alyssa was a district winner in the Metropolitan Opera National Council Auditions. Born and raised in Sioux Falls, SD, she completed a Bachelor of Arts in Music at Augustana University and a Master of Music in Voice at The University of Missouri-Kansas City Conservatory of Music and Dance. Visit alyssatoepfersoprano.com for more information.
Jeremy Wagner, Bass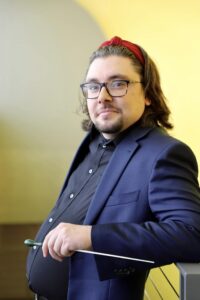 Jeremy Wagner is a promising and engaging music educator, with a Master's of Music in Choral Conducting at the University of Missouri. At the institution, Wagner was able to work alongside and learn directly from mentors, Dr. R. Paul Crabb, Dr. Wendy Sims, and Dr. Brandon Boyd. Wagner has been serving as the Director of Choral Activities at Missouri Valley College, preparing choirs as well as teaching several curricular courses such as Music Appreciation, and Jazz, Pop, and Rock. Wagner also worked individually with students as the applied lessons professor. Additionally, Wagner has been granted opportunities to work with established local educators, including Lee's Summit North's George Peng and Jonathan Krinke, Dr. Rika Heruth, Christine Nichols, and Emily Edgington Andrews. Through his participation within the community, Wagner has established himself as a talented conductor, educator, and performer around Missouri. These accolades, in conjunction with his focused work ethic, led to Wagner being named the Director of Music Ministry at several churches, most recently Unitarian Universalist Church of Columbia. He also works as the Assistant Chorale Conductor and Co-Chamber Choir Conductor with the Choral Arts Alliance of Missouri. Wagner currently performs in a semi-professional chamber ensemble, Vox Nova, who celebrated their first Missouri Music Educators Association performance in 2018 and won the Ernst Bacon American Prize in 2019.