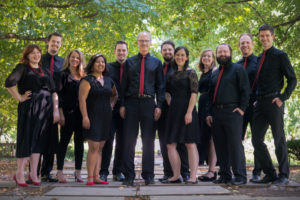 Upcoming Prometheus Performances
Ticketing Information Below!
About Prometheus
Choral Arts Alliance of Missouri's newest extension, Prometheus joins as the organization's permanent professional Artists-in-Residence. Under the direction of Artistic Director R. Paul Crabb and Assistant Director Emily Edgington Andrews, Prometheus' fourteen singers hail from regions across the United States. Each of them leading professional lives as soloists and chamber musicians, their collected experience brings a special breadth and depth to the ensemble, lending Prometheus a unique versatility and intimacy. The ensemble will join CAAM once a year to lead masterclasses and educational workshops, perform on tours, and to represent the organization as ambassadors nationally and internationally of the artistic virtues for which CAAM is known: Excellence, Education, and Innovation.
Experience Prometheus
2022 Tour Schedule
Friday, September 23
Private House Concert, Kansas City, by invitation only
Saturday, September 24
Workshop and Informal Concert with Lawrence Children's Choir
Location TBA
10:00 a.m.-12:00 p.m. workshop
12:30-1:00 p.m. informal concert
Prometheus works with the exceptional singers of the Lawrence Children's Choir in Lawrence, KC in an interactive and engaging educational workshop. The combined groups will present a short, informal concert open to the public. Free-will donation gratefully accepted.
Saturday, September 24
Just a Taste
6:30 p.m. Saturday, September 24, 2022
Village of Cherry Hill, Outdoor Gazebo
2100 Cherry Hill Dr. | Columbia, MO
Enjoy selections of wines and/or non-alcoholic beverages inspired by exquisite a cappella music from representative regions around the world. Light appetizers served. Bring your own chair or blanket. RSVP kindly requested by September 20 so that we may plan accordingly. Free-will donation gratefully accepted.
Sunday, September 25, 2022
The Full Feast
4:30-6:30 p.m.
Les Bourgeois Vineyards Blufftop Bistro
14020 West Hwy BB | Rocheport, MO
Tickets No Longer for Sale
Enjoy a four-course dinner paired with award-winning wines, inspired by exquisite a cappella music from representative regions around the world. Limited seating available. Please reserve your tickets by September 16. Tickets available online or in person at the Yellowdog BookShop.
Tickets:
$85/Person
$150/Couple
$580/Table for 8